Winter is the favourite season of the year for millions of people and is easily one of the most pleasant seasons in a country like India. The winter season can provide you some truly interesting and varied opportunities, and offers an amazing chance for you to experience something new and unique. It offers all, from spending some time camping in the cold mountains to making way for the Eastern states and spending a week away from the hustle bustle of your day to day life.
India is a tropical country that sees a large amount of variation in climate based on your location, as well as the time of the year. Winters in Southern India are usually mild and pleasant, but they can be a frigid and bitter experience in many places in North India. Whether you want a pleasant temperature and quiet evenings or a snowy night where you and your friends surround a bonfire, you can be certain that you will find a great vacation.
Check out these amazing places in India, which are sure to make this winter unforgettable for you:
Lachen
Step right into a fairy tale, complete with snow and unimaginable natural beauty. Deep in the heart of Sikkim, lies this wintry wonderland where few ever venture. If an adventure is what you are looking for, then Lachen will make sure that you find one. It acts as a base for a number of thrilling treks, and you can be certain that you will have an amazing time here. The virginal beauty of the place is a special delight for photographers, who will fall in love with Lachen.
Goa
Goa and winters are a recipe for fun and enjoyment. One of the most popular activities in the country for winters includes a trip to Goa with your friends. The time around the New Year is, in fact, one of the busiest seasons in the state and attracts thousands of international visitors. Relax on the beaches, visit the many historical locations, and party till you can no longer move. A winter vacation in Goa is all about beating the cold.
Rajasthan
The royal state is an incredible choice if you want to do some travelling in the winters. The state is chilly during this season and makes for an exciting terrain that you can explore to your heart's content. There are dozens of major forts in the state that will leave you breathless with their sheer majesty and beauty. If you do visit Rajasthan in the winter season, do make sure that you take some time to explore Kutch.
Manali
Manali is perhaps one of the most famous hill stations in India, and is part of every top 5 hill stations in India list that has ever been compiled. It is a beautiful little hill town that is surrounded by natural beauty and will offer you gorgeous snowfalls if you time your visit right. Whether you seek a relaxing journey or you are looking for an incredible adventure, Manali will offer you both. A paradise for honeymooners, the city is also a base for trekkers and campers who rush over here during the winters in search for a thrilling time.

Ladakh
For those who seek the wildest adventures, Ladakh can make even your wildest dream come true. A temperature that can make your blood freeze and the heavy snow can make it a challenge to reach Ladakh, but the trip alone is worth the effort. If you have ever wondered what it must be like to walk on water, Ladakh will offer you a chance to do so. Trek over the frozen rivers in the famous Chadar trek, for a rush, that you will not forget in a hurry.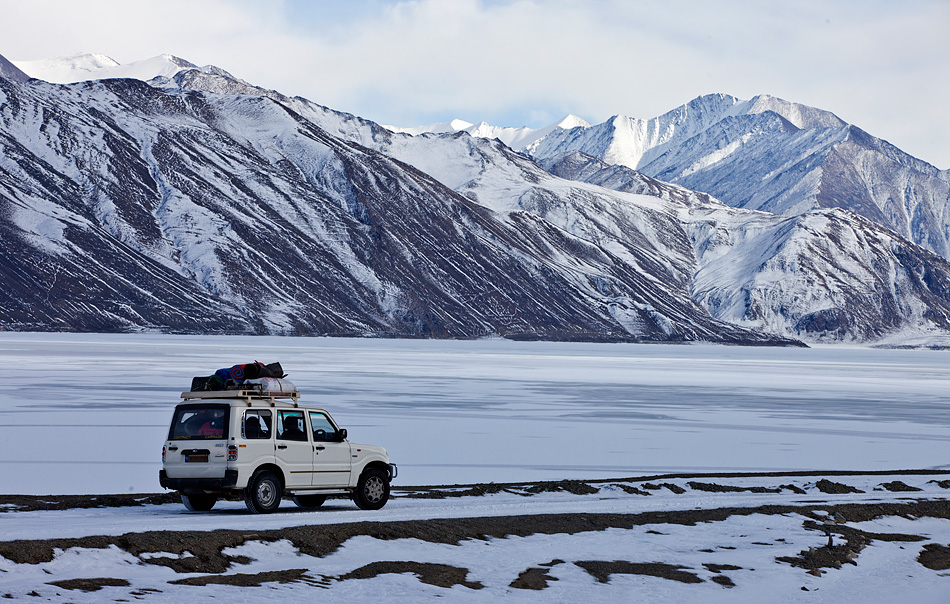 Auli
Have you always wanted to ski in the snow? Then Auli is the one place that you absolutely need to visit this winter! Auli is famous for being one of the ultimate ski destinations in India, and offers the same thrill that the ski slopes in Manali and Shimla do, but is much closer to those who live in Southern India.
Andaman
The Andaman islands have become a major tourist attraction in the recent decades, and deservedly so. If you want the experience of Goa without the crowd and the frenzy, Andaman is exactly the place that you are looking for. Glorious beaches, amazing seafood, cheap liquor, and friendly locals are just a few things that Goa and Andaman share. What's missing is the almost frenzied partying of all the tourists, and you get to spend your day on a deserted beach somewhere in complete bliss.
Kovalam
Kerala is especially popular during the winter seasons when the state is cool and pleasant, as compared to its usually moist and warm climate. Spend some time in Kovalam, a truly marvellous beach town, and come home refreshed. Beaches are highly popular in India during the winter seasons, largely due to the fact that the intense heat of summer makes many beaches almost unbearable in the summers. Spend your winters on the beaches of Kovalam for a memorable experience.
How to dress for the winters in India
Indian winters can be very unpredictable, and depending on the part of the country that you are in, can be accompanied by rains or even snow. The temperature can range from a pleasant 25 degrees to subzero. As such, you must know how to dress appropriately for each location. Layers are the best way to ensure that you have adequate insulation. Starting with warm thermal wears, wear at least three layers, so that you do not catch yourself shivering when the sun goes down. Remember, a light jacket over two layers of sweater is more comfortable as well as warmer than a single thick jacket! Invest in gloves, caps or earmuffs, and boots. After all, in order to best to enjoy winters, you need to make sure that you are warm and comfortable first.
Travel to some of the best winter destinations in India to discover an amazing new side of this country.